What is ISO/IEC 38500?
ISO/IEC 38500 provides principles, definitions, and a model to help the governing bodies understand the importance of Information Technology (IT).This standard is intended to help all types of organizations in evaluating, directing and monitoring the use of Information Technology (IT), regardless of the degree of IT usage. It consists of management practices and decisions associated with the current and future use of IT. The purpose of this standard is to promote an effective, efficient and acceptable use of IT in all organizations by informing and guiding governing bodies in governing the IT use and establishing an IT governance vocabulary.
Why is IT Governance important for you?
ISO/IEC 38500 assists governing bodies to ensure that the use of IT contributes positively to the performance of the organization. Therefore, by fulfilling ISO/IEC 38500 requirements, the organizations are able to monitor IT usage, ensure business continuity and sustainability, align IT with business needs and ensure appropriate implementation and operation of IT assets.
Moreover, this standard will help you obtain the necessary expertise and knowledge to support organizations in establishing, implementing and continually improving a framework that complies with the principles and the model for good IT governance set by ISO/IEC 38500. It also enables you to gain the necessary skills to manage risks, encourage the exploitation of opportunities arising from the use of IT, and avoid inadequate application of ISO/IEC 38500 principles and IT systems.  This standard allows you to understand the business strategy and align it with the technology strategy and advise the company on best practices of IT Governance.
With the current increasing trend of requirements for a more qualified staff, organizations are offering great career opportunities to individuals who are certified and have the appropriate experience
Benefits of ISO/IEC 38500 - IT Governance
By becoming an ISO/IEC 38500 certified professional, you will have the opportunity to:
Manage the IT investments properly
Improve the performance of the organization
Improve project governance
Improve the competitive position of the organization
Minimize IT risks
Assure greater project success rates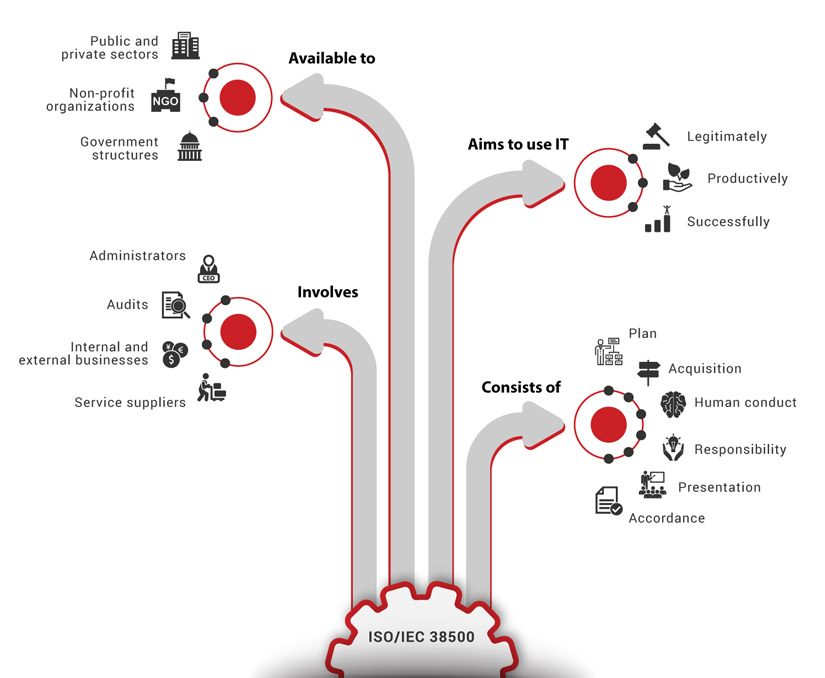 How do I get started with ISO/IEC 38500 Training?
Want to improve IT usage and ensure a positive contribution of IT to the organization's performance? Our experts are here to support you ensure good IT governance in your organization.